Our homeland is a gift from the Creator, passed to us from our ancestors and held by us in trust for our children and future generations. What defines us is not a line on a map but a way of life, a shared culture and a communal responsibility to future generations. As Indigenous peoples we are inherently connected to the land. Our physical, intellectual, emotional and spiritual well-being depends upon that connection.
Fishing is the lifeblood of Nlaka'pamux Nation. Our children and Elders are the Nation's greatest resources. We pass traditions and culture on through our stories. Nlaka'pamux laws are grounded in our stories. These laws guide the exercise of our jurisdiction, which is the source of our control over our lives, land and resources.
Our Culture is what defines us as a Nation and language is the foundation of our culture. NNTC acts to protect culture though means such as the development of a written Nlaka'pamaux Cultural Heritage Law and protection of archaeological sites.
Nlaka'pamux identity extends beyond the Canadian border. NNTC is actively involved in protecting Nlaka'pamux traditional cultural properties related to the Seattle City Light Hydro Project.
Skagit
Areas of the Nlaka'pamux homeland, in what is now the United States, were flooded by the creation of Ross Lake as part of the Skagit River Hydro Electric Project to provide power to the City of Seattle. NNTC is working to protect Nlaka'pamux cultural resources and advance recognition of the Nlaka'pamux in the United States.
View PDF
NNTC - A Governing Entity
The Nlaka'pamux Nation Tribal Council is a governing body of the Nlaka'pamux Nation. Carrying out its mandate for over 40 years, NNTC exists to protect and advance Nlaka'pamux title and rights and is involved with cultural and natural resources, environmental sustainability, economic independence, health and well-being. Protection of Nlaka'pamux title means protection of the boundaries of our Nation.
NNTC is an Nlaka'pamux entity, not a provincially or federally incorporated or regulated body. Comprised of community members, leadership and staff, NNTC also has a number of associated entities such as Fraser Thompson Indian Services Society, AEW LP, achoomEEnsh a Nlaka'pamux LP, Nhwelmen LP and quAymn LP. These entities were established to meet the needs of the communities.
NNTC is dedicated to acting in the best interests of the Nlaka'pamux. We are guided by the wisdom of our ancestors and elders, by the Nlaka'pamux Resolution on Natural Resources and by the fundamental law: Take care of the land and the land will take care of you.
External Indigenous Relations
NNTC works with Indigenous Nations on issues we share in common, with Indigenous political organizations including the Union of BC Indian Chiefs, with advocacy organizations, with proponents and with other governments. No one other than the NNTC speaks on behalf of the NNTC.
View PDF
Health & Well-Being
Fraser Thompson Indian Service Society (FTISS) and Nlaka'pamux Services Society (NSS) were formed to meet program funding requirements while providing health and well-being services to the Nlaka'pamux. Han Knakst Tsitxw provides safe, culturally supportive, temporary accommodation. ShchEma-mee.tkt is the NNTC initiative exercising rights for the well-being of Nlaka'pamux children and families
View PDF
NNTC Membership
As a governing body for Nlaka'pamux title and rights, NNTC is Nation, not band, based. The Indian Act and the band structure have profoundly impacted our communities. As we work towards decolonization and the return to our own community structures, we remain true to the principle that title and rights are communal in nature, held by the Nation and exercised by individuals. In practice though for administrative ease, membership in NNTC is often stated in terms of bands.
Members include: Lytton, Skuppah, Boothroyd and Oregon Jack Creek (Ntequem, Snepa).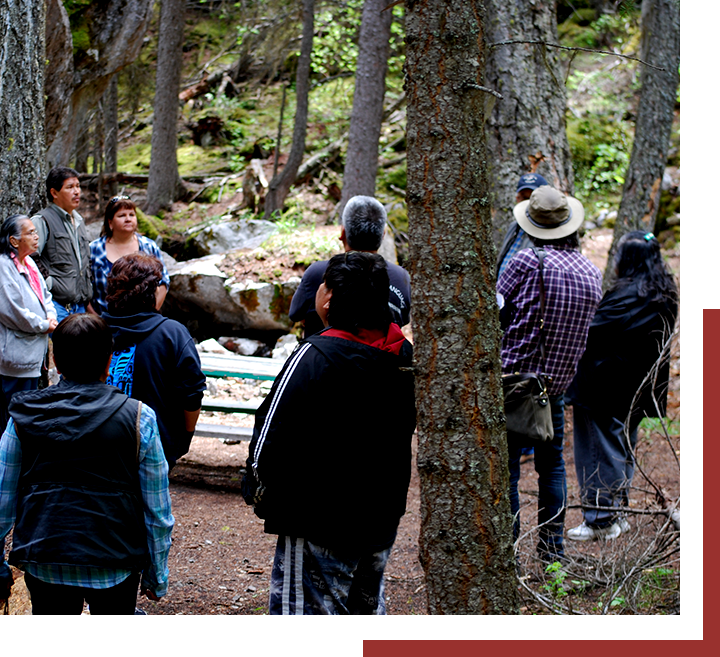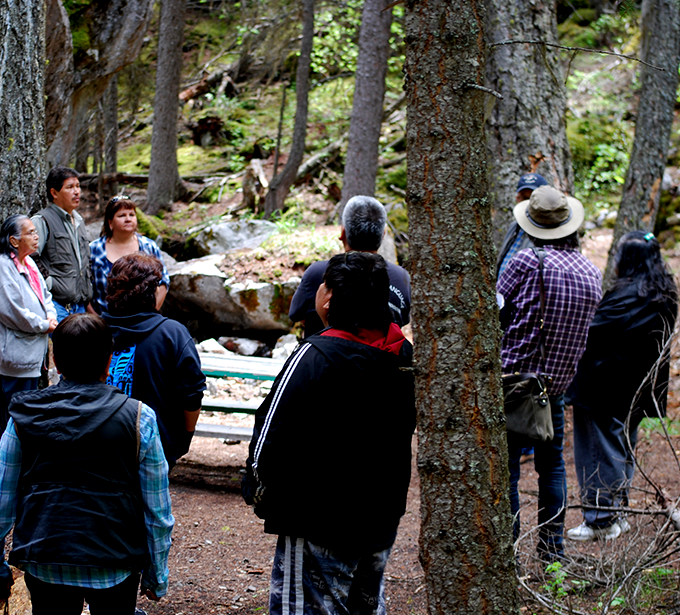 Nlaka'pamux Nation Tribal Council
Organization Chart
Nlaka'pamux Member Communities
Snepa, Ntequem, Lytton, Skuppah, Boothroyd
Chiefs Matt Pasco, Niakia Hanna, Doug McIntyre, Mike Campbell
Chief Matt Pasco
Past Chairs: Chief Nathan Spinks and Grand Chief Bob Pasco
Title and Rights Initiatives
Related Societies & Corporate Entities
Honour and Gratitude
We Honour Grand Chief Bob Pasco
The Nlaka'pamux bestowed the honour of Grand Chief on Chief Bob Pasco in 2013 recognizing his life-long commitment to the protection and advancement of Nlaka'pamux title and rights. Grand Chief Pasco led the NNTC for over three decades. His wisdom and the foundation he laid, continue to guide us.
We Remember Shirley Raphael
1959-2017
Shirley was the heart and soul of the NNTC office.  She is missed incredibly but her spirit shines through in everything we do.